Water Today Features AquaterreX
START-UP 
AQUATERREX

 'DEEP SEATED WATER™ TECHNOLOGY' LOCATES WATER WHERE OTHERS SAY "NO WATER EXISTS"

By Suzanne Forcese

suzanne.f@watertoday.ca

In 2018, an exclusive spin-off partnership with the non-profit Lawrence Anthony Earth Organization (LAEO) was formed to bring effective resolution to the greatest environmental threat of our time – global clean water scarcities.

LAEO's International President, Barbara Wiseman and Senior Managing Director of U.S. Operations, Diane Wagenbrenner formed a global environmental services organization (GIS Analytics). The organization evolved to address the water challenges, advance water science, mitigate risk in water resource exploration, and enable its sustainable management.

Now re-branded, AquaterreX, LLC, was launched in May 2021 with breakthrough technology to locate vast amounts of underground fresh water.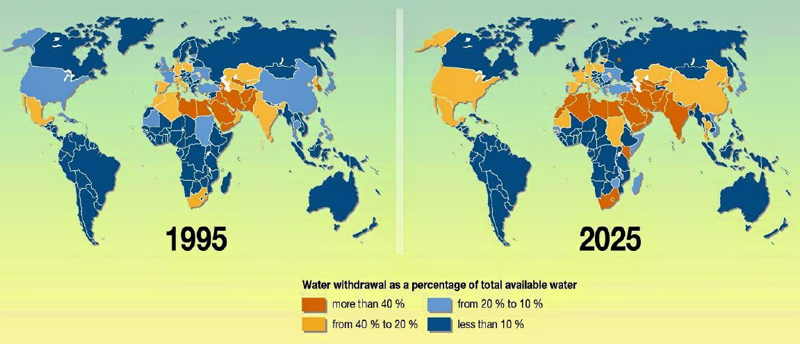 Four billion people depend on dwindling supplies of shallow groundwater for drinking and food production. Moreover, water is becoming contaminated every day from pesticides, chemicals, and other contaminants.
"By 2025, 1.8 billion people will experience absolute water scarcity and two-thirds of the world will be living under water-stressed conditions." –UN Convention to Combat Desertification
WATERTODAY spoke with LAEO's Diane Wagenbrenner, Senior Managing Director Environmental Science Operations U.S.; and James D. D'Arezzo, Chairman & CEO of AquaterreX, California.
"In 2014, the Lawrence Anthony Earth Organization (LAEO), came across a nearly lost science providing answers to water scarcity. Remarkably, it had been demonstrated that there is no scarcity of fresh water on the planet; there has only been a shortage of knowledge of where and how to find it." < LAEO Senior Managing Director Diane Wagenbrenner
WT learned from Wagenbrenner that LEAO researchers have compiled developments and advancements spanning the past 90 years in hydrology, geology, well-drilling, and software/IT tools.
"We now have a single body of knowledge, as a codified workable technology for finding alternate supplies of water," Wagenbrenner said in describing Deep Seated Water™ Technology (DSW™) — the intellectual property that was gifted to LAEO and fused with the proprietary algorithms created by the AquaterreX team.
Groundwater abstraction (hydrogeological term for extraction) and well construction has predominantly targeted shallow aquifers and surface water resources The average depth of a water well worldwide is between 3 and 18 meters. Thus contamination, long-term sustainability and depleting water supplies are a chief concern Because Deep Seated Water is found deeper than shallow aquifers, it is less affected by abrupt changes in regional hydrological (rainfall/climate) cycles. In addition, there are vast amounts of water.
James D'Arezzo brings to AquaterreX over thirty years in leading edge global technologies including specialized pioneering of Geographic Information Systems (GIS).
"I've been through many 'sea-changes' in the tech industry. When I learned about the work LAEO was doing with water, I wanted to apply my knowledge of technology to do something simple…like save the planet."
"There is a solution and we are literally sitting on top of it. Vast amounts of water are available. We have a fusion of data that is able to identify areas of interest where water is. The U.S. National Groundwater Association estimates that there are 22.6 million cubic kilometers of groundwater in the upper two kilometers of the earth's crust. That's enough water to supply Earth for over 6,000 years at today's global consumption rates." James D'Arezzo, CEO AquaterreX
Although a new venture in North America, AquaterreX has enabled an extremely high success rate in locating and drilling for previously unknown sources of water in drought-stricken or highly arid regions in Australia, Africa, Asia, and the USA.
Wagenbrenner adds that the team spent a year in Australia with Robet Gourlay, with one of LAEO's geology and water resource consultants, who has drilled over 1500 successful water wells on four continents. Many of these successful water wells exist on properties where previous drilling companies had failed repeatedly to locate water.
Gourlay had developed advanced techniques of locating abundant, fresh, highquality water, outside of the conventional hydrological cycle.
"We recorded absolutely everything Gourlay teaches. Had we not codified this technique, it would have been lost."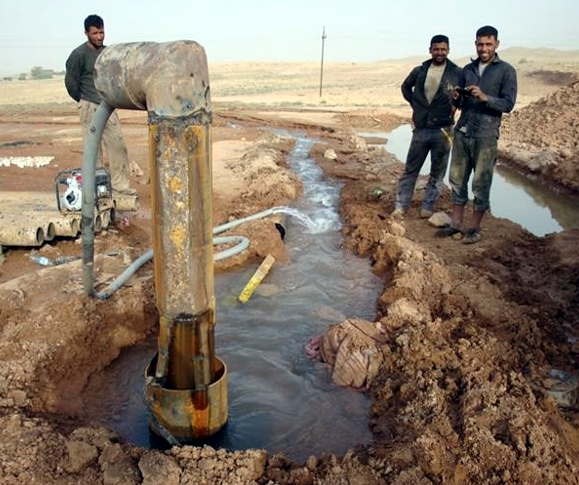 Kurdistan well. Drilled in 2013. Water Production 40,000 liters per hour
"With our proprietary technology, we have found a way to reach this deeper water
economically without drilling wells many thousands of feet deep," says D'Arezzo.
The AquaterreX technology involves:
a unique Geospatial Data Analysis
an Assessment Method for the geo-spatial mapping
Locating and Extraction of high-quality, quantity fresh water.
"The three phases are a gathering of our 'fused data'; on site exploration of a broader area of interest that allows us to narrow our 'x marks the spot' site for bore holes; and finally, the drilling process," D'Arezzo says.
"Our advancements in satellite imagery, software and instrumentation allow us to locate these large deposits of water with near 100% accuracy." As for the drilling – a typical drilling rig will do.
"In many instances drilling will be a little deeper (200-300 metres) than your typical well (which can be up to 100- 200 metres deep). And in some instances, the driller will have to have experience drilling through hard rock. But we look for pathways that would eliminate that scenario. There are a lot of pathways and fissures that can be tapped with our technology to reach pristine water with precision.
"If there is water, we will find it."
And the advantages of Deep Seated Water?
Aside from the fact that there is enough water for our thirsty planet, DSW can complement existing water conservation measures in a given region.
There is a constant supply of clean fresh water that is not impacted by contamination or pollution from surface infiltration
Shallow aquifers are able to recharge and restore surface water environments, which can improve water quantity and quality. By reinforcing long held traditions in sustainable water management, the addition of DSW to a region's water inventory can bolster water, food, and general ecological security.
DSW is economical when compared to large-scale solutions, such as desalination and wastewater treatment. These approaches can cost hundreds of millions of dollars and take years to plan, build, and implement.
DSW can be located and water producing wells can be completed within a few months.
"The fact is, we do not have to severely restrict water usage, if we leverage all the tools at our disposal. There is plenty of water available on the planet and we now know how to find it. We also have newer best practices that can make a dramatic difference in total usage."
And back to the "simple task of saving the planet", D'Arezzo sums up his vision.
"If we start acting now, in a short time the headlines about 'water restrictions' and grotesque pictures of dead animals and starving children can be replaced with headlines about more food production, smarter use of water and less conflict."
In keeping with LAEO's mission, Wagenbrenner adds, "Through education and the implementation of effective solutions, we work to bring about healthier conditions for all life and the environment." It will however take a shift in thinking. "Our aim is to bring about a new paradigm of constructive decision making."
The science is available. The technology is there. The leadership is in position. And most of all the passion is there. D'Arezzo leaves us with a glimpse of that passion.
"We want to be able to make a difference. We know we can make a major difference. Billions of people are suffering from the water crisis… "It doesn't have to be this way."