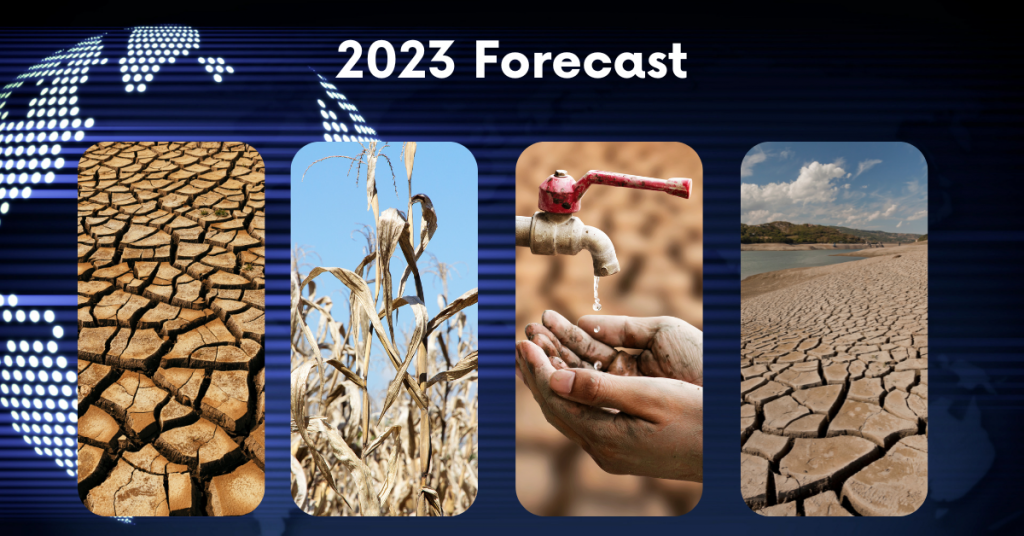 2023 Forecast – Drought Relief or More of the Same?
As many parts of the world struggle with persistent drought, the big question as we head into 2023 is, will we get some relief, or are we facing more of the same?
The World Meteorological Organization (WMO) predicts that the La Niña climatic phenomenon, which causes rainfall in certain regions and drought in others, has a 75% chance of persisting through February and a 55% chance of continuing through April. This is the third time since 1950 that La Niña has occurred three years in a row. WMO Alert
This means that Eastern Africa, the Southwest US, lower South America, and Southern Europe will continue to experience drought. Other regions, such as Southern Africa, Eastern Australia, and Southeast Asia have experienced heavy rains and flooding. In summary: more of the same.
In the UK, experts state, "Average rainfall levels over winter will still not be sufficient to avoid impending drought or drought conditions next year," the National Drought Group has forecast. UK Environment Agency
Some predictions are even more dire. National Geographic Magazine reported that a new study in Nature Climate Change stated the drought in the Western US could last until 2030. National Geographic article
Why Weather Will Be the Greatest Disruptor
In a July 2022 video interview, an agricultural commodities expert made the following predictions about the US ag market.
There's no bigger single factor when it comes to investing in agricultural commodities than the weather. Shawn Hackett built a business around understanding what historical patterns say about the weather we're experiencing today. Hackett, the president of Hackett Financial Advisors, incorporates solar cycles, sea surface temperatures, and climatic transitions (which occur with notable regularity) into his models. What he sees right now is alarming: Weather volatility is only going to increase, and soon, with a 100-year drought setting in for the U.S. Midwest in 2024-25. Hackett says many farmers, policymakers, and investors are unaware of what's coming. But they could and should prepare accordingly.
Persistent Drought
In the US, the drought problem has extended eastward, now reaching into nearly every state except the Eastern Seaboard (see map below).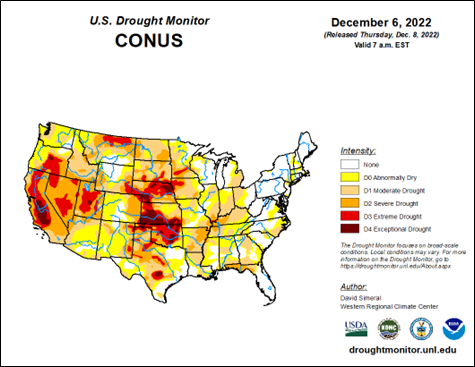 In Southern Europe, the region has been coping with drought for several years. Below, a recent map from the European Union clearly shows the extent of the problem.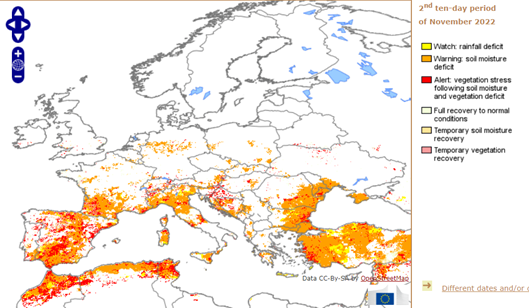 A Growing Need For A Supplemental Source of Water in 2023
Water supplies are being tapped out while the need for growth remains for 2023 and beyond. That's why a supplemental source of fresh water is desperately needed in many areas. Fortunately, a vast supply of water is available and economically accessible.
Deep Seated Water – An Almost Unlimited, Alternative, and Clean Source
Deep Seated Water (DSW), is groundwater, typically sourced from deep aquifers that are located lower than shallow aquifers. Such deep aquifers are supplied not only from local catchment basins but also by subsurface inflows across basin boundaries. Deep Seated Water also encompasses water created at the mantle level of the Earth under extreme heat and pressure as confirmed by this recent report on mantle rain. Contamination does not occur in these deep water aquifers as modern pollution has not reached these deeper levels. And the best news is that this water is accessible and plentiful.
There is a Vast Ocean of Fresh Water Right Below Our Feet
A vast ocean of fresh water exists right below our feet. It can be tapped economically and quickly to help needed regions in 2023. Hydrogeologists and other experts have overlooked it due to assumptions made decades ago. However, with 21st century technology, this ocean of water can be found and brought to the surface within weeks. The US National Groundwater Association estimates there are 6,000 years of freshwater supply in the upper two kilometers of the earth's crust Nature Geoscience article. AquaterreX has developed the ability to locate and economically bring to the surface these previously untapped water resources.
An example of huge new sources of fresh groundwater being discovered came just a few months ago in Texas. The newly named Maverick Basin Aquifer is known to be at least 3,000 square miles and averages 1,000 feet thick in most places. This comes years after Texas water experts concluded their deeper aquifers are brackish (salty) at best. Water tests on this new aquifer show it comes out of the ground already meeting or exceeding federal and state drinking water standards! Deep aquifer (texas.gov) These discoveries fly in the face of the commonly accepted beliefs of most hydrogeology professionals.
We Can Solve the Water Crisis Now
AquaterreX has been at the forefront of this effort, employing 21st century technology to locate Deep Seated Water.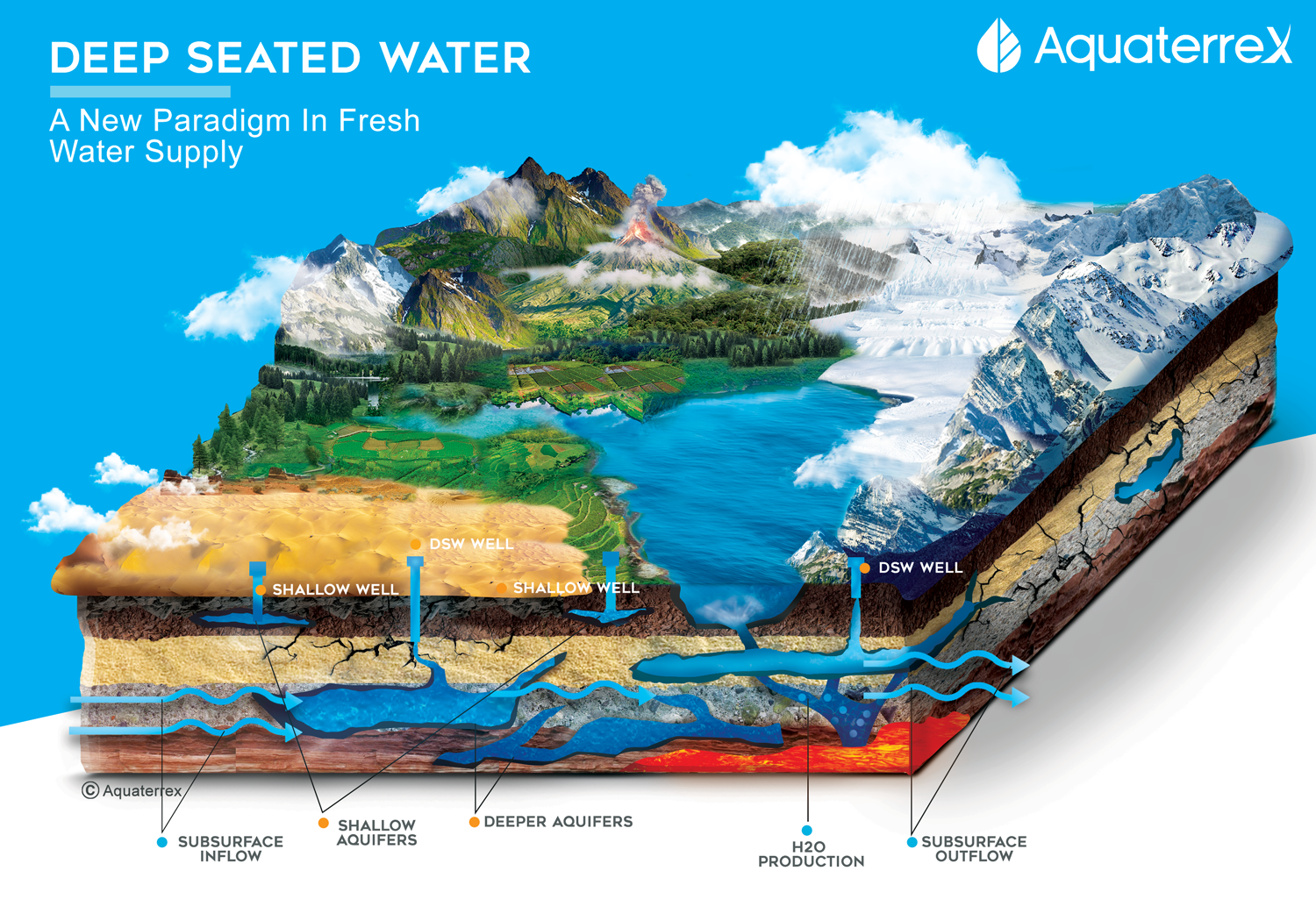 Deep Seated Water – The Missing Piece
Deep Seated Water is the Missing Piece that can solve the water crisis puzzle – contamination, drought, scarcity. Many water strategies focus on conservation, rather than additional supply. Other solutions such as desalination and wastewater treatment are potential answers for some, but they also come with trade-offs such as excessive cost, high energy usage, long planning periods, and toxic waste. Deep Seated Water is found almost everywhere on the planet, and it can be added to the mix of solutions as a supplemental freshwater source that is not subject to contamination, is fast and easy to implement, and is economical and scalable. And, tapping Deep Seated Water allows both surface water and shallow aquifer sources to recharge, making the total system more environmentally sustainable.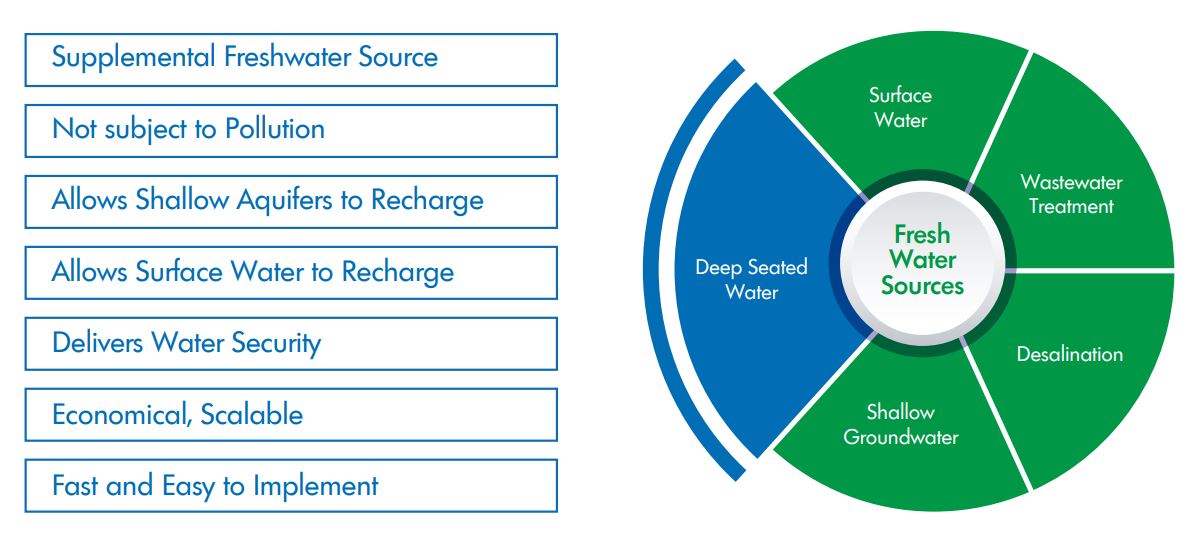 We Can Solve The Water Problem
There is no question that we will continue to face freshwater challenges around the world in 2023. It is time to consider all of the alternatives and solutions at our disposal. Science and technology are advancing to the point where we can make a difference quickly if we just resolve to do it.
About AquaterreX
AquaterreX (www.aquaterrex.com) is a global environmental services organization with a mission to broadly implement effective water and food security solutions. AquaterreX maintains offices in Florida, California, and Australia, and has representation in the United Arab Emirates.
The name AquaterreX comes from the Latin, aqua (water) and French, terre (earth, land) which is a derivative of the Latin, terra, and "X" for exploration. Thus, AquaterreX encompasses water and land solutions for the planet.
The company possesses proprietary technology to locate Deep Seated Water, which is fresh water situated below the shallow groundwater that supplies the majority of fresh water on the planet. This vast new source of water can help solve the water crisis facing billions of people.