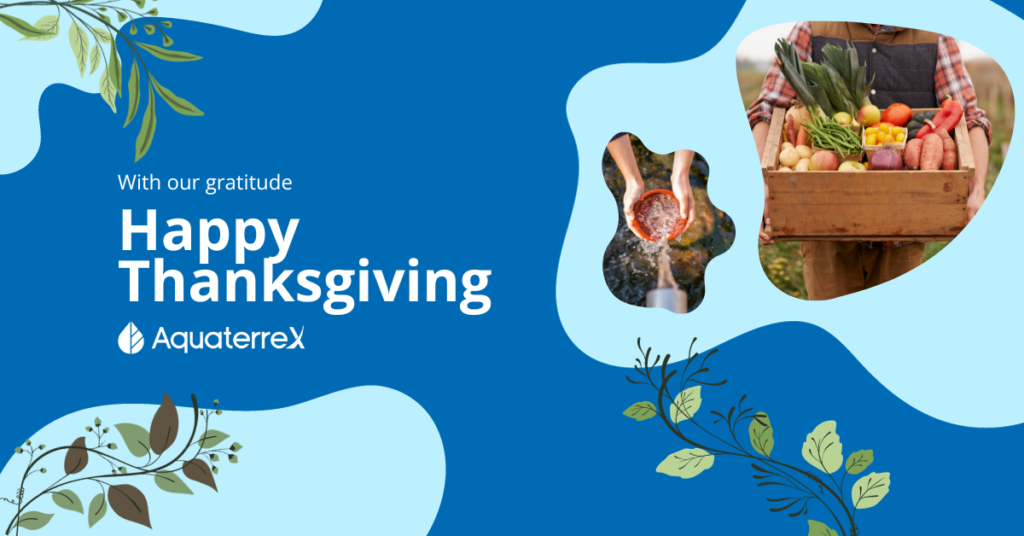 AquaterreX Extends Warm Thanksgiving Wishes
In the U.S. we celebrate a much-anticipated holiday named Thanksgiving on the 23rd of November this year. It is one of the more important holidays as it celebrates family, faith, and country. It provides us with the opportunity to pause and reflect on what we are thankful for.
At AquaterreX, with our devotion to water-related endeavors, we are especially thankful for the tireless efforts of farmers and ranchers across the planet who supply the food that is so critical to humanity. We are also grateful for those who ensure a plentiful supply of good drinking water in the cities and towns around the world. It was not long ago that the simple act of turning on a spigot from which clean water flowed was nothing short of a miracle.
Amidst our gratitude, we cannot overlook the stark reality faced by two billion people on Earth who still lack access to clean water. Recognizing water as the fundamental necessity for all life, addressing this issue emerges as one of the defining challenges of the 21st century. Fortunately, we are thankful for possessing cutting-edge technology that enables us to locate freshwater sources with nearly 100% accuracy, presenting a promising solution to this global dilemma.
We are thankful for our affiliation with The Earth Organization, with its mission to bring about far healthier conditions for all life and the environment – because none of us survive alone.
As Thanksgiving festivities unfold, we extend warm wishes to all who partake in this cherished occasion. May your holiday be filled with joy, gratitude, and meaningful connections with loved ones. From the entire AquaterreX team, we wish you nothing but the best.
Happy Thanksgiving!
The AquaterreX Team
About AquaterreX
AquaterreX (www.aquaterrex.com) is a global environmental services organization with a mission to broadly implement effective water and food security solutions. AquaterreX maintains offices in Florida, California, and Australia, and has representation in the United Arab Emirates. The name AquaterreX comes from the Latin, aqua (water) and French, terre (earth, land) which is a derivative of the Latin, terra, and "X" for exploration. Thus, AquaterreX encompasses water and land solutions for the planet.
The company possesses proprietary technology to locate Deep Seated Water, which Is fresh water situated below the shallow groundwater that supplies the majority of fresh water on the planet. This vast new source of water can help solve the water crisis facing billions of people.