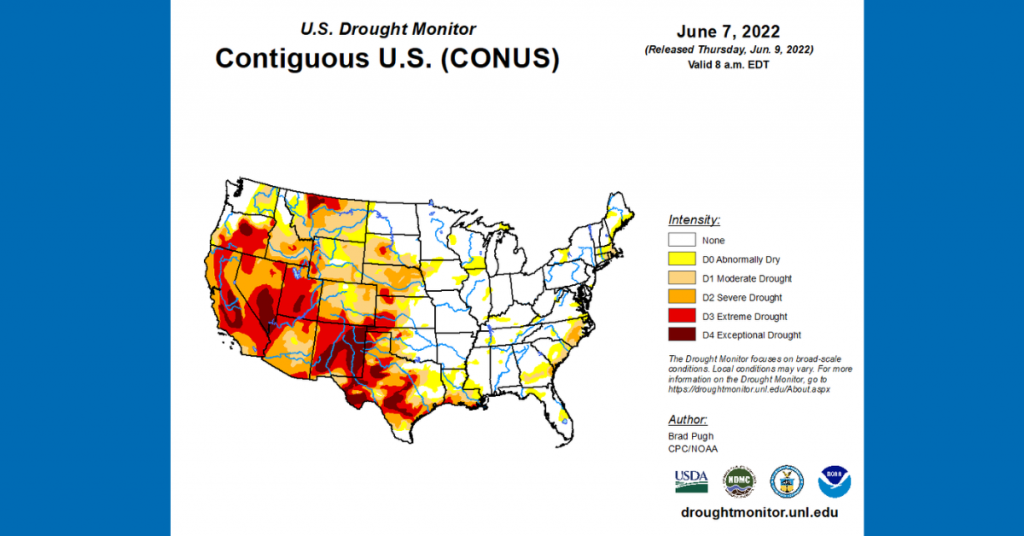 Drought Ravages Southwest US
One Key Strategy Can Help Save It
It seems like a bad science fiction movie. California governor declares a drought state of emergency. Phoenix, Scottsdale, Tempe Arizona declare Stage 1 Water Alerts. Austin, Texas follows suit, declaring a Stage 1 Drought Contingency Plan. All across the Southwest, drought is afflicting as much as a quarter of the US population. When you factor in the impact on agriculture, which is a major global product of the Western US, the impact is far-reaching.
According to the June 7, 2022 US Drought Monitor, moderate to exceptional drought covers 40.1% of the United States. And, the summer heat has only just begun.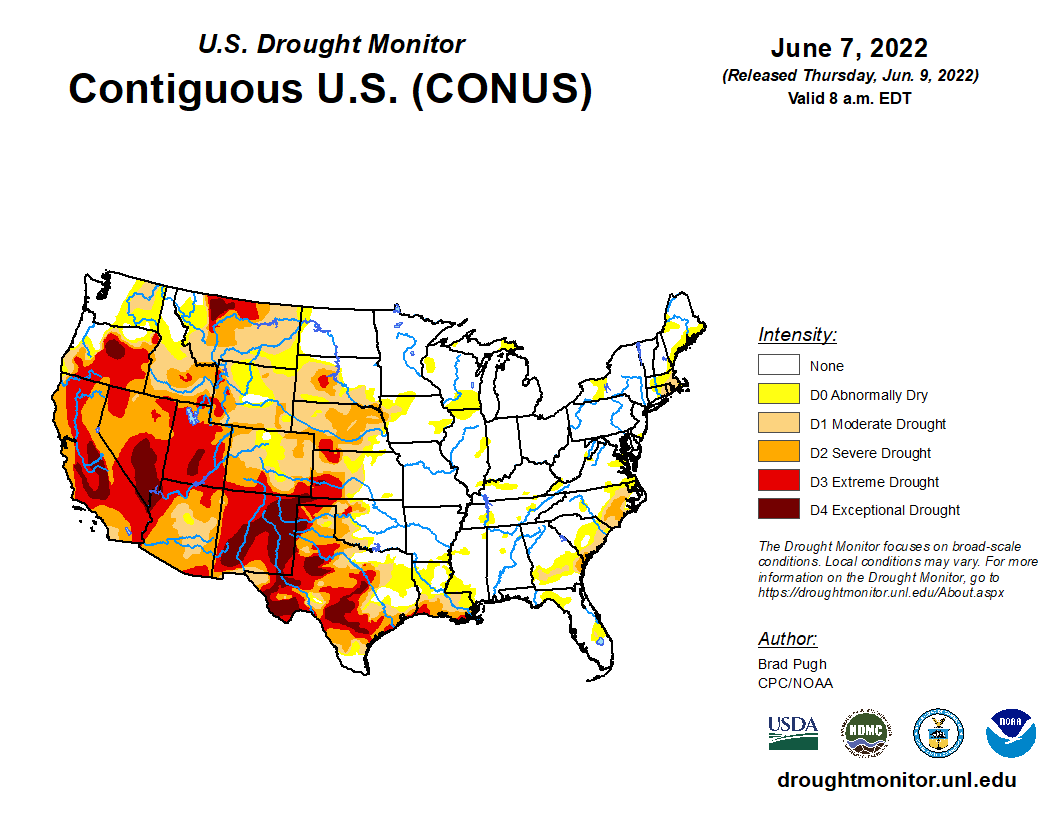 What Can Be Done?
Certainly, conservation is the first action in an emergency. But the fact is, much of the disaster could have been avoided if many of today's tools were employed to solve the problem in the first place. New technologies and best management practices can deliver enough water to satisfy the needs of the Southwest, or for that matter, almost anywhere on the planet.
There is Plenty of Water and We Can Find It
The US National Groundwater Association estimates there is 6,000 years of freshwater supply in the upper two kilometers of the earth's crust Nature Geoscience article. AquaterreX has developed the ability to locate and economically bring to the surface these previously untapped water resources.
Deep Seated Water – An Almost Unlimited Alternative Source
Deep Seated Water (DSW), is groundwater, typically sourced from deep aquifers that are located lower than shallow aquifers. Such deep aquifers are supplied not only from local catchment basins but also by subsurface inflows across basin boundaries. Deep Seated Water also encompasses water created at the mantle level of the Earth under extreme heat and pressure.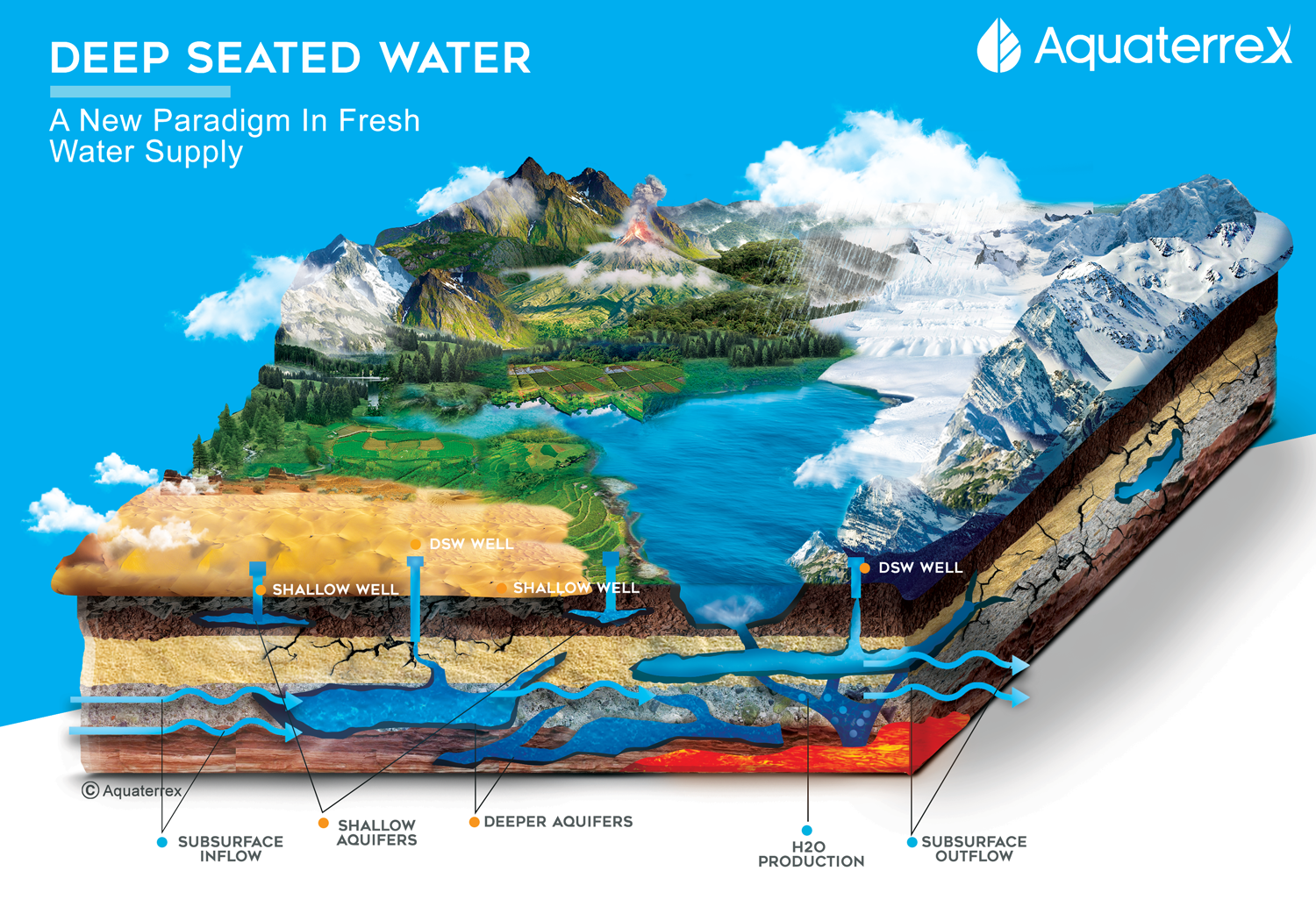 Deep Seated Water – The Missing Piece
Deep Seated Water is the Missing Piece that can solve the water crisis puzzle. Many water strategies focus on conservation, rather than additional supply. Other solutions such as desalination and wastewater treatment are potential answers for some, but they also come with trade-offs such as high cost, high energy usage, long planning periods and toxic waste. Deep Seated Water is located almost everywhere on the planet, and it can be added to the mix of solutions as a supplemental freshwater source that is not subject to pollution, is fast and easy to implement and is economical and scalable. And, tapping Deep Seated Water allows both surface water and shallow aquifer sources to recharge, making the total system more environmentally sustainable.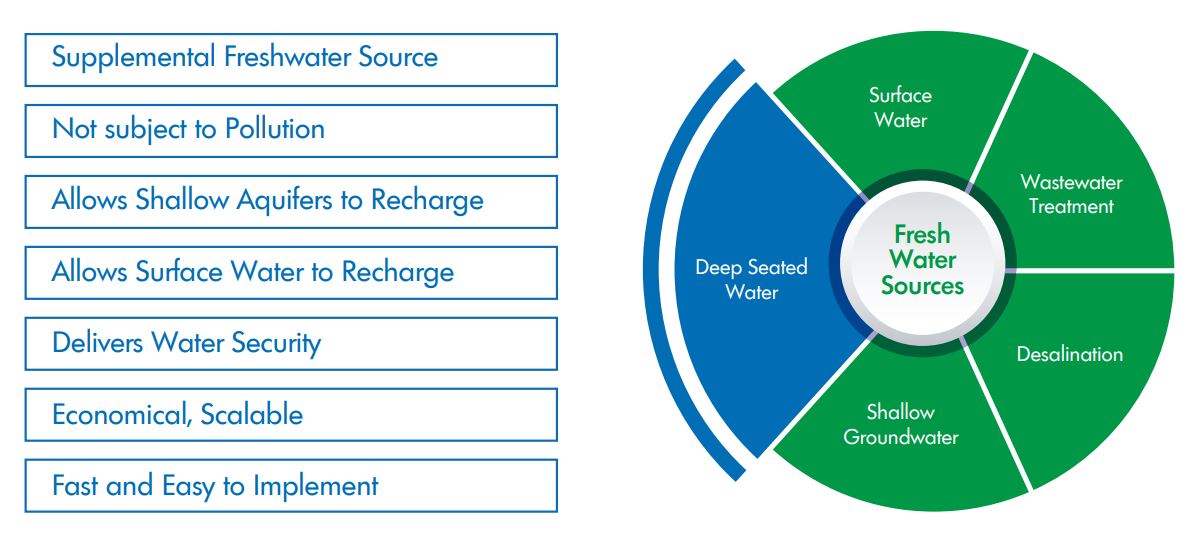 We Can Solve The Problem
There is no question that we are facing freshwater challenges, not just in the US, but around the world. It is time to consider all of the alternatives and solutions at our disposal. Science and technology are advancing to the point where we can make a difference quickly, if we just resolve to do it.
About AquaterreX
AquaterreX (www.aquaterrex.com) is a global environmental services organization with a mission to broadly implement effective water and food security solutions. The name AquaterreX comes from the Latin, aqua (water) and French, terre (earth, land) which is a derivative of the Latin, terra, and "X" for exploration. Thus, AquaterreX encompasses water and land solutions for the planet.
The company possesses proprietary technology to locate Deep Seated Water, which is fresh water situated below the shallow groundwater that supplies the majority of fresh water on the planet. This vast new source of water can help solve the water crisis facing billions of people.