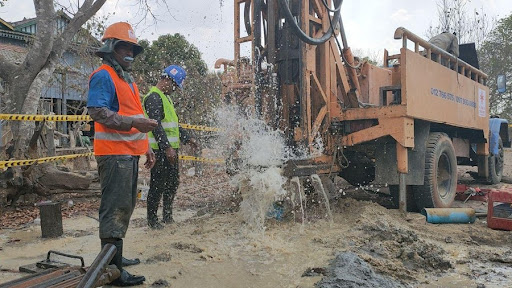 How to Make Sure You Find Water When Drilling Wells
Many water well drilling companies exist on every continent, but knowing where to drill remains a challenge.
By now, geological drilling has become a highly advanced and specialized field of expertise, with new developments coming out daily from research and development teams around the globe. These continual advances in drilling technologies are mainly driven by the lucrative mining and mineral exploration industries, which are ever seeking out more cost-effective and efficient ways of piercing through various geologies to access what lies below.
The problem is that drilling technologies – however advanced they may be – are rendered impotent when one doesn't know where to drill. Finding underground water can be as challenging as finding underground mineral resources. Whereas finding underground mineral resources can be economically beneficial, finding underground water can be the difference between life and death for many around the globe.
Therefore, it is arguably more important that investments be made into water exploration technologies and techniques than into mineral exploration since all the gold, platinum or diamonds in the world are worthless to the parched and desiccated.
Who Are We?
AquaterreX specializes in locating deep seated underground water by using geology, environmental and earth sciences combined with proprietary deep seated water methodologies and technologies that ensure a high degree of accuracy.
We are affiliated with the non-profit Lawrence Anthony Earth Organization, which seeks to improve environmental conditions for all. The technology to locate deep seated water has been used to drill more than 1,500 wells in Australia, Asia, Africa and North America.
Using our unique knowledge, we can accurately locate underground water resources by analyzing geological, atmospheric, hydrological and other data sourced from satellite imagery and airborne geophysical data in concert with on-site instrumentation and existing geological data.
How Do We Find Underground Water?
The detection of underground water starts by processing, integrating and analyzing data sets in geographic information software (GIS) systems using our proprietary techniques.
After this water has been found, one of our field survey teams conducts an on-site survey and inspection using advanced instrumentation to verify our GIS findings. This enables us to pinpoint borehole locations with near 100% certainty.
After this, the drilling can begin with the assurance of hitting water.
Companies that have water well drilling technology operating in agriculture, municipal services, property development or any other industrial sector can benefit from knowing where to drill. Contact us now to find out how we can help you secure a reliable water source for your project.