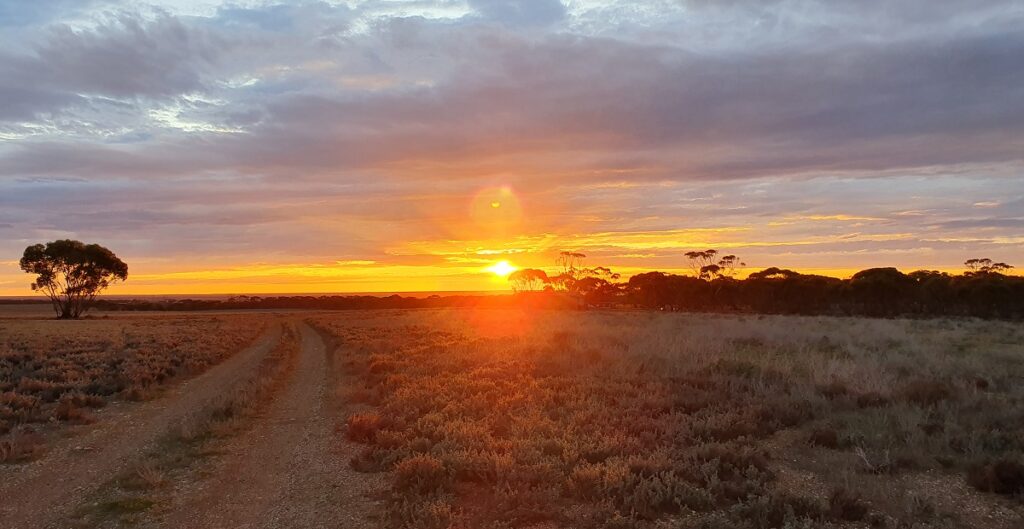 Unlocking Australia's Freshwater Potential: AquaterreX's Groundbreaking Journey
In a previous blog post in August, we delved into our groundbreaking work in Colorado, where we harnessed our proprietary software and patented instrumentation to identify areas of interest and pinpoint water well bore sites. We've also been busy in Australia, the world's driest inhabited continent, unlocking the potential of Australia's freshwater resources.
Down Under, we've equipped our Australian division with patented Seismo-Electric technology, and they've hit the ground running. Darryl Bothe, our diligent Managing Director at AquaterreX Australia, even went the extra mile by setting up a "tradie" (tradesman) trailer, fully equipped for remote on-site work. It features its own generator, battery backup, and inverter, not to mention Starlink Internet connectivity, ensuring that we remain connected to our scientists in the US while working across the vast expanse of Australia. This powerful tool allows us to leverage our Ph.D. scientists and hydrogeologists in real-time.
This cutting-edge technology enables us to peer 600 meters beneath the surface using seismo-electric signals. It all starts with a precisely measured percussion blast using a special apparatus. The resulting percussion signal transforms into an electrical signal through natural processes, with the results beamed back to our antenna array. This array measures the delay in time and pinpoints the presence and location of water. Notably, our technology operates based on resistivity, making it impervious to saltwater or brackish water, which conducts electricity differently due to its solids content.
One of our recent projects took us to Southeast Queensland, where we were tasked with evaluating two under-performing well bores. The clients were keen to know if there was water at deeper levels and if it was worth drilling further. Preliminary results indicate that one of them merits further exploration, while the other does not appear to hold any additional water at greater depths. Our recommendations, based on these findings, provide clients with the valuable intelligence they need to make informed decisions.
Our next project led us to an Organic Winery in Central Victoria. They have a few brackish well bores and a good surface water supply but wanted to drought-proof the property against the inevitable return of droughts. Preliminary data suggests that there are a few spots that look promising.
In our relentless pursuit of progress, we've covered over ten thousand kilometers in recent months, investing significant time, energy, and resources toward our goal of becoming the premier groundwater location service not only in Australia but globally.
Deep Seated Water – An Abundant and Clean Alternative
Deep Seated Water (DSW) is groundwater typically sourced from deep aquifers, residing below shallower aquifers. These deep aquifers receive water not only from local catchment basins but also from subsurface inflows across basin boundaries. What's more, Deep Seated Water encompasses water created at the mantle level of the Earth under extreme heat and pressure, as confirmed by a recent report on mantle rain. The beauty of these deep aquifers is that they remain uncontaminated, as modern pollution has yet to reach these depths. The best news is that this water is not only accessible but also plentiful.
A Hidden Reservoir of Fresh Water Beneath Our Feet
Beneath our very feet lies an expansive reservoir of fresh water that can be tapped into economically and swiftly. This untapped treasure has remained overlooked by hydrogeologists and experts for decades, primarily due to outdated assumptions. However, thanks to 21st-century technology, we now have the capability to locate and extract these previously inaccessible water resources, and AquaterreX is leading the charge.
Addressing the Water Crisis Today
AquaterreX stands at the forefront of this endeavor, utilizing 21st-century technology to uncover Deep Seated Water and provide a much-needed solution to the global water crisis.
For an in-depth look at the entire process behind our groundbreaking work, feel free to explore our technology through this link The AquaterreX Technology.
About AquaterreX
AquaterreX (www.aquaterrex.com) is a global environmental services organization with a mission to broadly implement effective water and food security solutions. AquaterreX maintains offices in Florida, California, and Australia, and has representation in the United Arab Emirates. The name AquaterreX comes from the Latin, aqua (water) and French, terre (earth, land) which is a derivative of the Latin, terra, and "X" for exploration. Thus, AquaterreX encompasses water and land solutions for the planet.
The company possesses proprietary technology to locate Deep Seated Water, which Is fresh water situated below the shallow groundwater that supplies the majority of fresh water on the planet. This vast new source of water can help solve the water crisis facing billions of people.